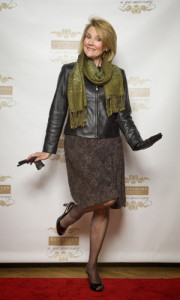 "…one of the finest performers who graced our stage at Metropolitan Room. Barbara McCarthy is a seasoned veteran in the industry and brings with her, great talent and a great performance. Accolades of positive reviews and feedback from both performers and critics fill our ears and inboxes following Barbara's shows. She is … a true professional and incredible performer"
Bernie Furshpan, Managing Partner
Metropolitan Room, New York City
---
BARBARA McCARTHY knows her Gershwin. In her new show at Danny's Skylight Room, "By George" – Songs of George Gershwin, she combines 20 songs with amusing anecdotes and history from the life of the musical genius. Included in her repertoire are all-time favorites, such as "Funny Face," "S'Wonderful," "I Got Rhythm," "They Can't Take That Away From Me," and "Embraceable You." She does a smattering of many and effortlessly slips into a variety of styles with her smooth, controlled tones. But when she performs a full song like "How Long Has This Been Going On?" or "Someone To Watch Over Me," then you get the opportunity to savor the depth and range of this talented lady's voice. McCarthy and Gershwin, accompanied by some impressive piano playing by Regan Ryzuk, make a pleasing partnership.
Laurie Lawson, ElectronicLink.com
---
McCarthy… presents a classic cabaret show…
Shifting gears effortlessly to introspection, and adding a country lilt, McCarthy sang "Dreaming," the first of three extraordinary songs by the contemporary cabaret singer Amanda McBroom that are the crowning jewels of her show, following it with "I Dreamed a Dream" from "Les Miserables." On the latter, she displayed the high, soprano end of her range, singing with a bright clarity akin to that of the veteran Broadway and cabaret star Barbara Cook"…
…McCarthy's exquisitely nuanced delivery of McBroom's "Ship in a Bottle," a lovely, meditative song about the delicacy and evanescence of relationships.
Not even Stephen Sondheim's brittle, psychologically savvy sophistication and soaring melodies, in a following well-chosen medley, could top the heart-felt epiphanies of McBroom's song. It took the delicious homicidal élan of Rodgers & Hart's "To Keep My Love Alive" to dispel its mood.
"Here's to the Ladies" is a well-conceived cabaret show done by a performer who can handle the varied vocal and dramatic demands of the material. The finale, "It Might As Well Be Spring," was done with just the right degree of sentiment to add a charming final grace note…
Singer and Spot Combine for Classic Cabaret
by George Kanzler
The Star Ledger
---
BY GEORGE, it's Barbara McCarthy's cabaret show at Danny's Skylight Room. McCarthy, a lissome blonde, presented George Gershwin favorites like Embraceable You and the last song Gershwin composed, Our Love Is Here to Stay. Like a cabaret Julie Andrews, McCarthy projected an air of refinement and sociability through a bright soprano tone.
Accompanied by pianist/composer Regan Ryzuk, her bio patter neatly moved the show along. Mentioning that Gershwin went to parties mainly to play his own music, McCarthy delivered a slow, dreamy S'Wonderful. She approached her songs with an elegant flair; for example, a flirtatious, not steamy, Do It Again, and Vodka, light, rather than straight up…
Elizabeth Ahlfors, Cabaret Scenes
---
Barbara McCarthy's new show at Danny's Skylight Room forms an intriguing mix of tunes around the theme of Where Is Love?… graceful and poised…with Makin' Whoopee McCarthy seems to be having fun and therefore, so does her audience.
Barbara McCarthy's clear vocal tone and refined presentation is effective with the contained poignancy of songs like She's Leaving Home (Lennon and McCartney). John Prine's Hello in There, speaking to the loneliness of old age and Amanda McBroom's Portrait, are also delivered with sincerity…
Review of "Where is Love?"
Cabaret Scenes
---
"…your performance and story behind the music were delightful- it created a great personal connection with the audience, and added so much depth to Gershwin's music!—-we received many positive comments about your performance from the attendees."
Dawn Quinn
Montclair Public Library
---
"Thank you so much for your wonderful performance…the audience was large—an overflow crowd —and enthusiastic, and I received many comments afterward about how much everyone enjoyed both the songs and your stories…It has been delightful working with you…"
Rena Frankle
Program coordinator
Tenafly Library Friends
---
"…still in serious afterglow from your cabaret. Everyone had a marvelous time."
Keith Wiggs
Development Officer
College of the Arts
Montclair State University
---
"A rich melodious voice"
The [Bergen] Record
---
"Wonderful!"
The Montclair Times